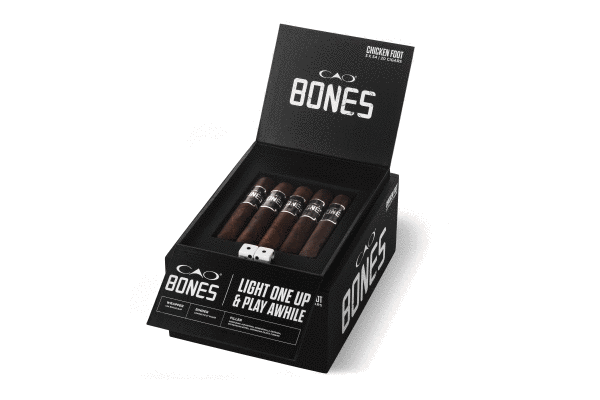 Wrapper: Connecticut Broadleaf
Binder: Connecticut Shade
Filler: Honduran, Nicaraguan, Dominican
Vitola: Chicken Foot (Robusto) 5×54
Tasting Notes: Dark Sweetness, Nuts, Coffee, hints of Vanilla
THIS IS MY NEW FAVORITE CIGAR!
As you may have heard me say before, I am a huge fan of Connecticut Broadleaf wrappers. The combination of savory and sweet darkness, the toothy, rustic appearance, the beautiful near-black color…I could go on.
Every palette is different, but my palette is build for Broadleaf. That said, I also find much to appreciate in other types of leaf, including Connecticut Shade. Mild, velvety to the touch, producing creamy smooth smoke. So when I read the blend breakdown of the CAO Bones and saw that it held a Connecticut Shade binder (a somewhat rare use of this type of leaf) beneath a Connecticut Broadleaf wrapper, I was obviously intrigued.
I swear, one can actually taste both leafs at once. Vanilla from the Connecticut Shade, and the tell-tale dark sweetness of the Connecticut Broadleaf. While CAO calls this a full-bodied smoke, I found the Robusto, or Chicken Foot as they have titled this vitola, to be full in complex flavor, but medium in body at most. This combination of full dark flavor in a milder to medium body can be very hard to find, but is exactly what I have been after.
As ones palette develops, one finds one goes through phases lasting many weeks or months at a time, where the specific smoking experience the palette craves will change. After a 50-ring-rocket phase, I have found myself gravitating toward milder cigars and larger ring gauges, and I have found that in the CAO Bones Chicken Foot. While very dark in appearance and in flavor, the large ring gauges (the Toro, Robusto, and Churchill are all 54 ring) mellow out the blend to a perfect medium.
May is CAO Month at the World Famous Tallchief Cigars Humidor and Lounge, and we would like to extend that promotion to our online customers as well. So use the coupon code BONES to save an additional 10% on any box of CAO Bones. This offer will only be good until the end of May, so get yours today.
Keep Coming Back!
-DP