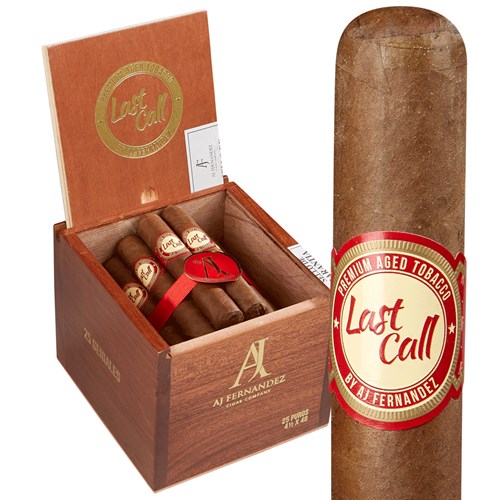 Strength: 4 / 5
Vitola: Geniales 4 x 52
Origin: Nicaragua
Price (local): $6.55
Wrapper: Ecuador Habano
You don't have to go home, but you can't herf here

If you ever get the chance to tour a cigar factory, do it in a heartbeat. If you get the chance to tour A.J. Fernandez's world class operation in Esteli, Nicaragua, I'd recommend going even if it means you have to skip your mother-in-law's 60th birthday party. What does that have to do with the Last Call? Quite simply, this cigar was handed out at the end of the night, normally in the 4th quarter of whatever game was on at the time, to guests staying at A.J.'s Casa Blanca house during their tour of his facilities.

Since its inception as A.J.'s preferred nightcap, they had been getting requests to sell this cigar, and finally it was released to the public. Handmade in Esteli, this Nicaraguan puro might be short, but you'd be crazy to think it doesn't pack a punch. Booming forward with a core of roasted nut flavors, spice, and a unique creamy, woodsy note. 
AJ Fernandez Last Call has received an impressive 93-point rating from Cigar Aficionado, noting: "A short, stout cigar with an uncut foot. It's a toasty, nutty smoke fortified with chewy, earthy notes and a savory, leathery finish."
This cigar packs a ton of flavor into a small (4 x 52) package, and while it features a lot of thin sizes, my favorite over the years has come to be the Corticas (short robusto.) The Last Call comes in both a Habano and a Maduro wrapper, and it features a signature blend of AJ Fernandez Nicaraguan tobacco that has an extremely toasty and nutty flavor to it. The Maduro Last Call has a natural sweetness to it and, combined with a bit of these flavors and some pepper to each draw, it offers it's own unique experience for those that like a bit more punch to their cigars. My favorite is the Habano; the warm, leathery and toasty warm wrapper generates a great tasting pull and an aromatic smoke that hangs in the air long after the exhale. Both are wonderful choices, and both are great selections for an every day smoke.
A Last Call won't last long; it'll smoke in about 25-30 minutes, but boy, what an excellent half hour it is. The Last Call is a fantastic smoke for those winter days where you don't want to burn one outside all day long, but still want an experience with a cigar that is worth every penny. For the price, you went get a better inch for inch cigar than a Last Call. Everything that AJ touches is gold, but especially these Last Calls, and they are the perfect addition to any smoke break, walk of the dog, or whatever else you break for. Grab one if you see them and see which one you like better. Great smoke.
Happy smoking! CB