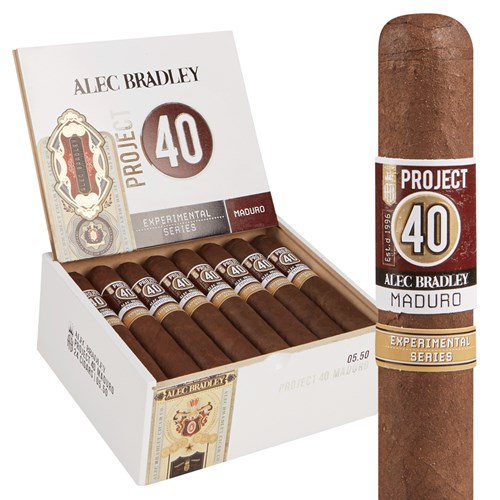 Strength: 4 / 5
Size: 5 x 52
Origin: Nicaragua
Price (local): $7.50
Wrapper: San Andres
Flavor Text:
Project 40 goes dark

Project 40 has probably impacted your life, without you even realizing it. Basically, Project 40 is based on the concept that 50% percent of your happiness comes from genetics, 10% is based on circumstance, and the remaining 40% all depends on your outlook and mindset. The goal being to find how a product can have a positive impact on your mind and body, and improve your happiness and comfort overall. We all know that cigars are a relaxing activity that brings people together and helps create a sense of comfort and mental well-being, so it was only natural that Alan Rubin of Alec Bradley would apply this concept to cigars. What is even more natural is that eventually Alan would expand the line to include a darker Maduro version.

Enter Project 40 Maduro. For this version, a delicious Mexican San Andrés wrapper encases the same Brazilian Habano binder and Nicaraguan filler blend of the original Project 40 taking the flavor profile up a notch with smooth, peppery notes and a natural sweetness that Maduro cigars are known for. Dressed in a maroon and gold color scheme, this addition distinguishes itself from its predecessor in looks. Sure to be a hit like the 93-rated Project 40, the Maduro extension is going to go fast. Go on, take a walk on the dark side and enhance your 40%, grab a box today.
I have always pretty heavily endorsed the AB Project 40 to friends and family who were looking for a really nice budget smoke that won't blow your head off, and once I got a look at the AB Project 40 Maduro, I figured that it could potentially be a candidate for everyday smoke based on it's cheap price, it's medium to full body, and the price point it is often sold at. Overall, I'd say this cigar is solid, but not spectacular, and it's about what you'd expect for only spending anywhere between 6-8 dollars on a cigar.
It's pretty rare to pay an average of 7 dollars for a Maduro cigar; if that's what you're spending, then you're probably getting a very small smoke, perhaps something like a small Perfecto or Corona, max. This cigar has some sixe to it for the prize, and as usual from AB, it's got signature branding and construction. The draw was passable, not too tight or too loose, but a little bit more smoke would have been nice. The San Andres wrapper was dark and toothy, and it added a distinguishable peppery bite to this smoke. Already boasting a stronger Nicaraguan blend of tobacco than the usual Project 40, the Maduro version brings together a lot of elements traditionally found in a "strong" cigar to put a fresh, new spin on an old favorite.
The most excellent thing about this cigar is the wrapper. As most Maduro wrappers go, this one has a distinct sweetness to it that most Maduro smokers will identify and love. As for the tobacco, it was pretty non-descript actually. I had to go searching for the flavor of it, and mostly what I found was just pepper. Nothing really else to it, just the pepper you'd expect to taste in a strong cigar. The Maduro wrapper is always redeeming, and for 7 dollars, you really get a good bargain for a cigar like this, but at the end of the day, I didn't really appreciate the blend much. It's just a cigar with some punch due to the pepper. That's really all. Nothing impressive, but not bad. I put it in my 'Just a Smoke' category and maybe pick up another when I'm looking to rip through something really fast.
Happy smoking! CB